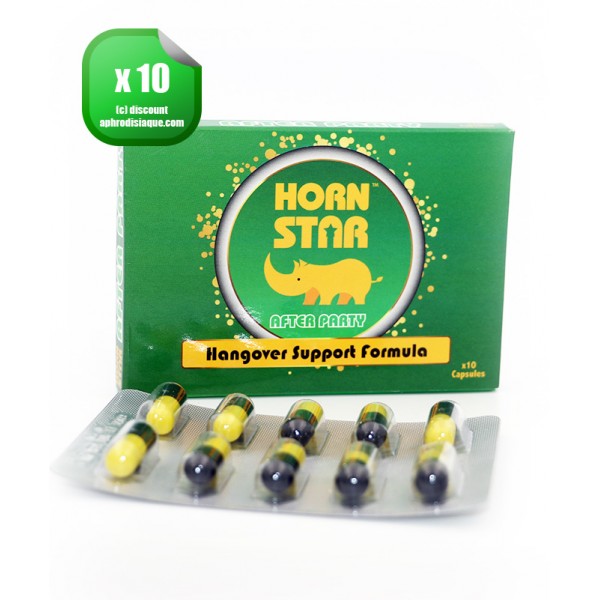 Horn Star After Party
Plaquette de 10 gélules anti-gueule de bois, pour assurer en toutes circonstances

Garanties sécurité - 256 bits SSL

Produits en stocks - Expéditions sous 24 heures

Nous remboursons si vous changez d'avis
Horn Star, After the Party
Pas vraiment un aphrodisiaque au sens courant du terme, mais plutôt un complément alimentaire qui vous sera utile si vous avez un peu trop fait la fête et que vous avez besoin d'assurer. Faire l'amour quand on a abuser de l'alcool, tout le monde le sait, ce n'est pas vraiment facile. Horn Star After the Party, vous aide a retrouvez vos esprits rapidement. Prendre une gélule 30 minutes avant le début des rapports pour faire se dissiper les effets négatifs de l'alcool. Attention, ne conduisez pas si vous êtes sous l'emprise de l'alcool, Horn Star ne diminue en rien le taux d'alcool présent dans le sang.
Vous pouvez également utiliser Horn Star avant la fête, et éviter ainsi les effets gueule de bois du lendemain, tout en limitant les maux de tête, nausées, vomissements, fatigue et déshydratation.. Fabriqué au Royaume-Uni selon les normes les plus élevées et approuvé par GMP et ISO. Certification complète disponible.
Composition de Horn Star After the party
Figue de Barbarie, Vitamine C, Vitamine B1, Vitamine E, acetato de tocoferol, acide pantothénique
Posologie de Horn Star After Party
Ne doit pas dépasser la quantité quotidienne recommandée, tenir hors de portée des enfants, conserver dans un endroit frais, sec et à l' abri de la lumière, ne prenez pas avec de l' alcool ou de la caféine. Ne pas utiliser si vous souffrez de problèmes cardiaques. En cas de doute, demandez conseils à votre médecin.
Mise en garde Horn Star After Party
Les compléments alimentaires Horn Star After the Party ne peuvent être substitués à un régime alimentaire varié et équilibré. À consommer dans le cadre d'un mode de vie saine. Ne pas dépasser la dose journalière recommandée. Ne pas laisser à la portée des enfants. Ne doit pas être utilisé par des femmes enceintes ou allaitantes, et par les personnes sous traitement médical. Pour votre santé, mangez au moins cinq fruits et légumes par jour, pratiquez une activité physique régulière, évitez de manger trop gras, trop sucré, trop salé, évitez de grignoter entre les repas. www.mangerbouger.fr
Data sheet
Box of :

10 caps

category :

Mixte
16 other products in the same category: