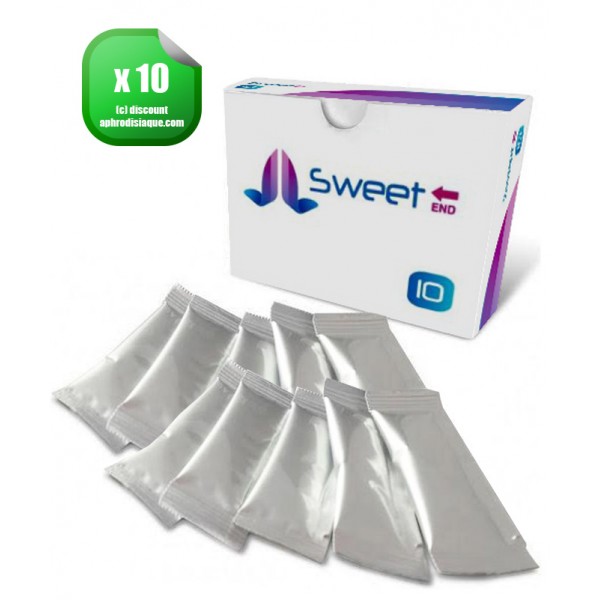 Sweet End x10
Sweet End, powerful aphrodisiac for men, soluble version.

Garanties sécurité - 256 bits SSL

Produits en stocks - Expéditions sous 24 heures

Nous remboursons si vous changez d'avis
Sweet End, aphrodisiac for men and women
Sweet End is a powerful and natural food supplement for both sexes, flavoured with lemon. Formulated with micro granules, Sweet End dissolves quickly in the mouth and acts 35% faster than a sexual stimulant tablet. The new cheap aphrodisiac product offered at the best price by your sexual stimulant shopping site.
Aphrodisiac for men designed to promote erection. Made from natural plants, Sweet End Sexual Stimulant works quickly. Strong and long-lasting erections, maximum power libido for great sex.
Aphrodisiac for women that enhances vaginal and clitoral stimulation, greatly improving the sexual desire of women. Take an envelope immediately before sexual activity directly into the mouth or diluted in a glass of water.
Sweet End composition
Mate (Ilex paraguarienis A st Hill - 720 mg), Sabal (Serenoa repens small - 180 mg), Squash (Cucurbita pepol - 150 mg), Peach (Prunus persica stokes - 150 mg), Common Apple (Malus domestica borkh - 150 ml), Terrestrial Tribulus (Tribulus terrestris - 60mg), Fructuosa (45 mg), L ARginina (45 mg)
Sweet End Warning
Sweet End dietary supplements cannot be used as a substitute for a varied and balanced diet. To be consumed as part of a healthy lifestyle. Do not exceed the recommended daily dose. Do not leave within reach of children. Not for use by pregnant or breastfeeding women, and by people undergoing medical treatment.
Data sheet
Box of :

10 caps

category :

Mixte
16 other products in the same category: