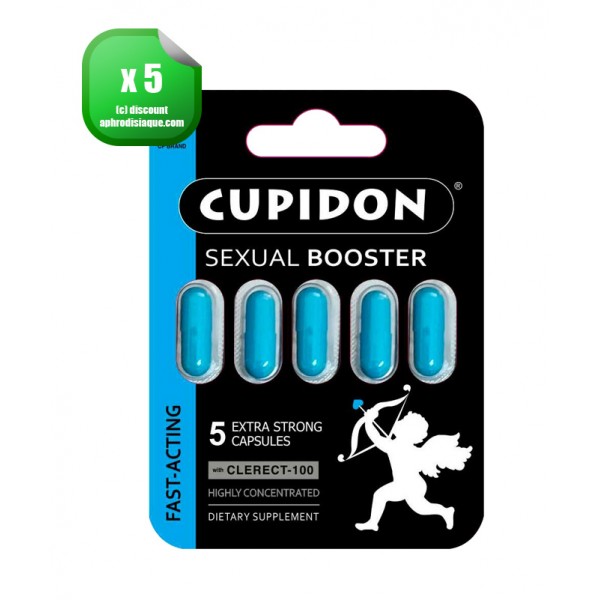 Cupidon
A dietary supplement with aphrodisiac properties for a tenfold increase in male libido and solid erections.
Cupidon, aphrodisiac for men
New in the male sexual stimulant category, the Cupid aphrodisiac acts very quickly for quality sexual intercourse. To obtain such results, CupidLabs European Laboratories have developed a unique and patented mix, Clerect-100. A clever blend of plants with high aphrodisiac power, Cupidon increases sexual desire, while providing masculine vigour. Stronger orgasms, longer lasting sex, increased energy. Cupidon already ranks among the best selling aphrodisiacs on your Discount Aphrodisiaque shopping website.
.
Cupidon's composition
L-Arginine HCL, Epimedium Extract, L-Carnitine, Fenugreek Seed Extract, Maca Root Extract, Butea Superba Extract, Turnera Diffusa Extract, L-Citruline Extract, Hawthorn Extract, Panax Ginseng Extract, Pine Bark Extract, Milk Thisle Extract, Cayenne Pepper Extract, Black Pepper Extract.
.
Cupidon Use Advice
Take one Cupidon capsule 30 minutes before sexual intercourse with a glass of water. Do not exceed the daily dose. Keep out of reach of children. Aphrodisiac dietary supplements cannot be used as a substitute for a varied and balanced diet. To be consumed as part of a healthy lifestyle. Not for use by pregnant or breastfeeding women, and by people undergoing medical treatment. For your health, eat at least five fruits and vegetables a day, exercise regularly, avoid eating too much fat, too much sugar, too much salt, avoid snacking between meals.
Data sheet
Box of :

05 caps

category :

for men
16 other products in the same category: