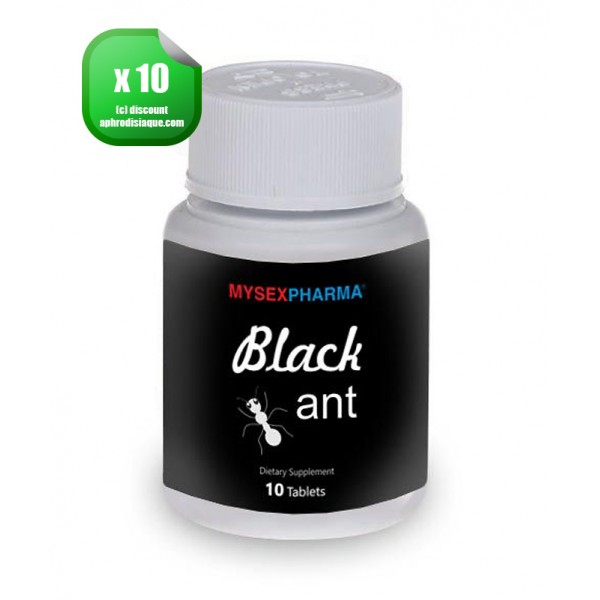 Black Ant
Black Ant, the sexual stimulant based on black ant for breathtaking aphrodisiac effects. The box of 10 capsules.
Black Ant for men
Black Ant is, above all, a powerful aphrodisiac. High quality formula for men with 100% pure black ant extract. It is a new generation erection product made of the highest quality natural ingredients, blended into a single, fast-acting formula. Black ant extract is incredibly beneficial to the human body, including its effects in improving male potency while providing strong erections. This amazing product will help you improve your sexual performance.
Black Ant, a sexual stimulant for incredible libido and sexual relations. One of the future best sellers of aphrodisiac products. With Black Ant, you no longer have any excuses for erectile dysfunction.
.
Composition of Black Ant
Black Ant Extract (250 mg), Epimedium Extract (100 mg), Panax Ginseng Extract (100 mg), Maca Extract (95 mg), Ginger Root Extract (50 mg), Blacl Pepper Extract (5 mg).
.
Advice on using Black Ant
Take one Black Ant capsule 30 minutes before sexual intercourse with a glass of water. Do not exceed the daily dose. Keep out of reach of children. Aphrodisiac dietary supplements cannot be used as a substitute for a varied and balanced diet. To be consumed as part of a healthy lifestyle. Not for use by pregnant or breastfeeding women, and by people undergoing medical treatment. For your health, eat at least five fruits and vegetables a day, exercise regularly, avoid eating too much fat, too much sugar, too much salt, avoid snacking between meals.
Data sheet
Box of :

10 caps

category :

for men
16 other products in the same category: