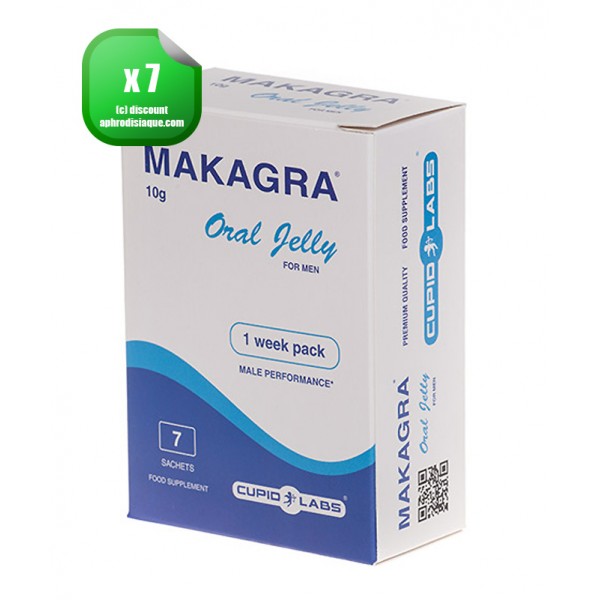 Makagra
Makagra, the ideal nutritional supplement to improve the sexual performance of your couple.

Garanties sécurité - 256 bits SSL

Produits en stocks - Expéditions sous 24 heures

Nous remboursons si vous changez d'avis
Makagra Oral Jelly
Makagra is a 100% natural aphrodisiac, formulated solely from vegetable ingredients. Makagra is 100% safe and laboratory tested by CupidLabs, so you can be sure that when you use this food supplement there will be no side effects.
Makagra works quickly and the only thing you need to do is to drink it 20-30 minutes before the presumed start of sexual intercourse. Endurance and performance optimized for outstanding sexual prowess. This powerful sexual stimulant is delivered in a box of 7 ready-to-eat sachets. Although intended for men, Makagra will be perfect for women, increasing female libido tenfold and offering more and more intense orgasms. 
The advantages of Makagra
100% natural herbal formula to improve erection
Guarantee of firm and long-lasting erections
Relieves symptoms related to erectile dysfunction
Herbal, safe and easy to eat
Increases endurance and libido
.
Makagra composition
L-Arginine 1500 mg, L-Carnitine 700 mg, L-Citruline 250 mg, Fenugreek extract 250 mg, Panax Ginseng extract 125 mg, Apium Graveolens extract 125 mg, Hawthorn extract 100 mg, Milk Thistle extract 100 mg, Sideritis Scardica extract 100 mg, Petroselinium Crispum extract 75 mg, Hypericum Perforatum extract 75 mg, Eryngium Campestre extract 620 mg, Pine Bark extract 40 mg, Citric Acid, Potasium Sorbate, Flavour, Acesulfame K, Purified Water.
.
Makagra warning
Makagra food supplements cannot be used as a substitute for a varied and balanced diet. To be consumed as part of a healthy lifestyle. Do not exceed the recommended daily dose. Do not leave within reach of children. Not for use by pregnant or breastfeeding women, and by people undergoing medical treatment. For your health, eat at least five fruits and vegetables a day, exercise regularly, avoid eating too much fat, too much sugar, too much salt, avoid snacking between meals.
Data sheet
Box of :

7 Sachets

category :

for men
16 other products in the same category: