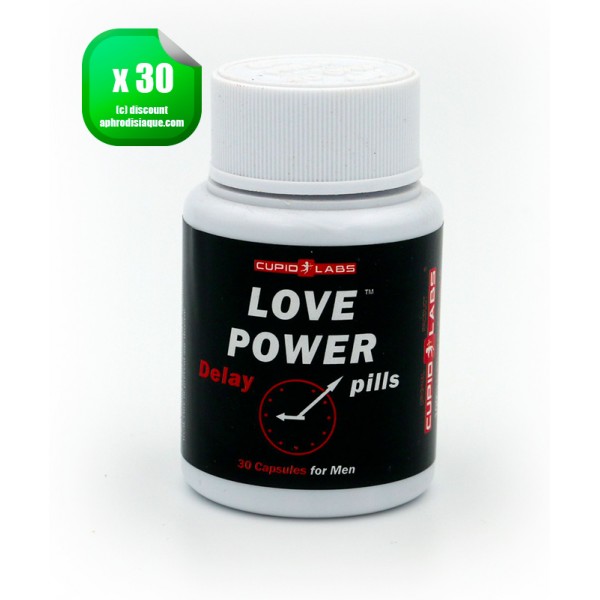 Love Power Pills
Gain efficiency and endurance during sex with Love Power Pills stimulants

Garanties sécurité - 256 bits SSL

Produits en stocks - Expéditions sous 24 heures

Nous remboursons si vous changez d'avis
Love Power Pills
Love Power Pills is a natural food supplement designed to delay the time of ejaculation. This way, sexual intercourse will last longer, allowing the couple to enjoy themselves even more. This male sexual stimulant is developed in Europe by CupidLabs Laboratories, already manufacturers of the powerful aphrodisiac ErectOn. Love Power Pills is ideal for preventing premature ejaculation problems. Love Power Pills also stimulates libido and increases endurance during sex. Put a definitive end to the small premature ejaculation problems that spoil your sexual relations.
Love Power Pills is a 100% natural herbal formula specially designed to make premature ejaculation a distant memory. For fast and long-lasting results, hang one capsule per day for one month, renewable. 
.
Composition of Love Power Pills
Passion Flower Extract (70mg), St John's work Extract (60mg), Fenugreek Extract (60mg), Tribulus Terrestris Extract (50mg), Epimedium Extract (50mg), Dodder Seed Extract (38mg), Valeriana Officinalis Extract (12mg), Panax Ginseng (10mg)
.
Warning Love Power Pills.
Love Power Pills dietary supplements cannot be used as a substitute for a varied and balanced diet. To be consumed as part of a healthy lifestyle. Do not exceed the recommended daily dose. Do not leave within reach of children. Not for use by pregnant or breastfeeding women, and by people undergoing medical treatment. For your health, eat at least five fruits and vegetables a day, exercise regularly, avoid eating too much fat, too much sugar, too much salt, avoid snacking between meals.
Data sheet
Box of :

30 caps

category :

to delay
16 other products in the same category: