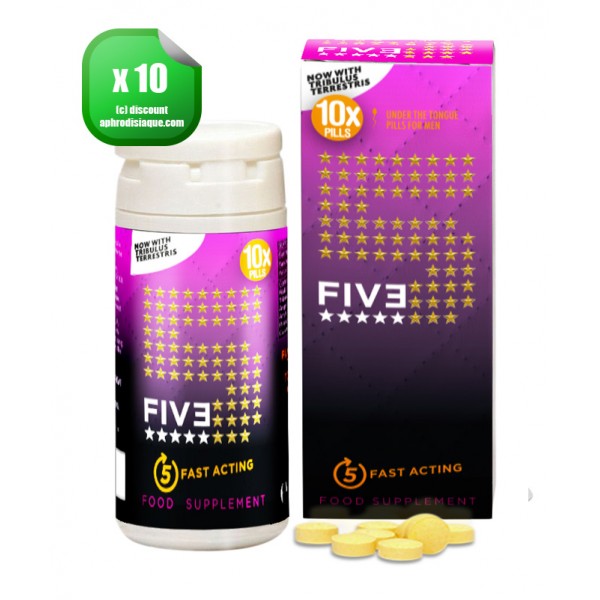 Aphrodisiaque Five x10
FIVE, a powerful aphrodisiac with spectacular effects. Fast and very efficient, the top aphrodisiacs.
Five, the latest addition to the aphrodisiacs
Be careful, Five is VERY powerful! Like Augebit, this powerful sexual stimulant acts with disconcerting speed. The first effects arrive in less than 10 minutes, and the effectiveness is frightening and immediate. Concrete erections, greatly delayed ejaculations, maximum sexual desire, rapid effects. From now on, you have everything you need to ensure sexually, for the greatest happiness of the ladies. Manufactured according to an exclusive blend of natural ingredients and skillfully measured, the Five will meet your expectations in terms of aphrodisiacs. An exceptional sexual stimulant selected by your cheap aphrodisiac shopping site.
.
Composition of Five
L Arginine, Cortex Cinnamomi, Radix Ginseng, Tribulus Terrestris, Amylum, Pineapple, Colour E110
.
How to use Five
Place one Five tablet under the tongue, do not chew, do not swallow. Do not exceed the recommended dose
.
Five Warning Notice
Five dietary supplements cannot be used as a substitute for a varied and balanced diet. To be consumed as part of a healthy lifestyle. Do not exceed the recommended daily dose. Do not leave within reach of children. Not for use by pregnant or breastfeeding women, and by people undergoing medical treatment. For your health, eat at least five fruits and vegetables a day, exercise regularly, avoid eating too much fat, too much sugar, too much salt, avoid snacking between meals.
Data sheet
Box of :

10 caps

category :

for men
16 other products in the same category: