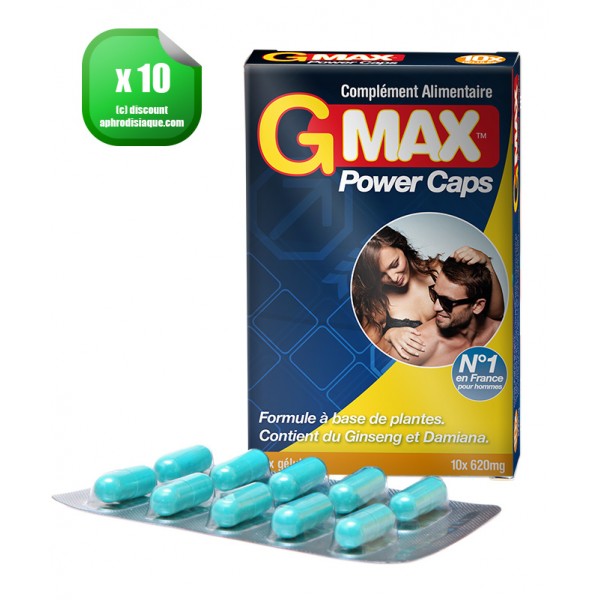 G Max Powercaps x10
G Max Powercaps, a powerful and natural sexual stimulant, for strong erections and optimal performance
GMax Powercaps
After the must-have Gold Max aphrodisiac, here is the new food supplement for men from GPE laboratories. The new blue erection capsules are back to help you maintain a steady pace during sex. A natural herbal booster that increases your performance and endurance.
The active principle of GMax Powercaps is simple: The formulation of this sexual stimulant increases the flow of blood to the penis, making your erections harder and longer. The effects last up to 36 hours. Do not exceed the dose of one capsule per 36 hours.
With Gmax Powercaps, you get solid and multiple erections, optimized performance, increased libido and even more intense sensations. Once again, your cheap aphrodisiacs are on Lapinox's favorite site.
Gmax Powercaps is available in boxes of 2 capsules, 10 capsules or 20 capsules.
.
Composition of GMax Powercaps
Ginseng 88mg, Cinnamon 70mg, Tuckahoe 58mg, Tang Shen 57mg, Szechuan Rhizone 50mg, Angelica 22mg, Liquorice 9mg
.
GMax Powercaps warning
Gmax Powercaps dietary supplements cannot be used as a substitute for a varied and balanced diet. To be consumed as part of a healthy lifestyle. Do not exceed the recommended daily dose. Do not leave within reach of children. Not for use by pregnant or breastfeeding women, and by people undergoing medical treatment. For your health, eat at least five fruits and vegetables a day, exercise regularly, avoid eating too much fat, too much sugar, too much salt, avoid snacking between meals
Data sheet
Box of :

10 caps

category :

for men
16 other products in the same category: