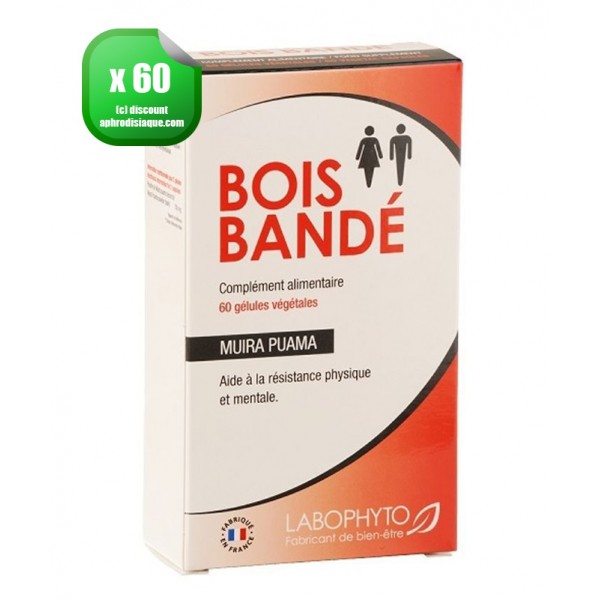 Bois Bandé in capsules
Essential aphrodisiac Bois Bandé in 60 capsule version 
Bois Bandé in a box of 60 capsules
Unless you come from another planet, everyone knows Bois Bandé . Its effects are known to all, recognized by erection specialists, and this powerful natural aphrodisiac has been used since the dawn of humanity. Ideal for treating erectile dysfunction, Bois Bandé is known by amateurs as a liquid version. Here is the 60 capsule version for even faster effects and easier use.
Made exclusively from Muira Puama bark, carefully selected by Brazilian arborists, Bois Bandé capsules is an aphrodisiac food supplement that, in addition to acting on the male and female libido, has many beneficial properties for your health. Add to that a control and marketing by the French laboratories Labophyto, and you get the ultimate in natural aphrodisiacs. 
From now on, the cheap Bois Bandé is on Discount Aphrodisiaque. And for purists, find here the famous liquid sexual stimulant flavoured with strawberry.
.
Warning on Bois Bandé
Dietary supplements cannot be a substitute for a varied and balanced diet. To be consumed as part of a healthy lifestyle. Do not exceed the recommended daily dose. Do not leave within reach of children. Not for use by pregnant or breastfeeding women, and by people undergoing medical treatment. For your health, eat at least five fruits and vegetables a day, exercise regularly, avoid eating too much fat, too much sugar, too much salt, avoid snacking between meals.
Data sheet
Box of :

60 caps

category :

Mixte
16 other products in the same category: