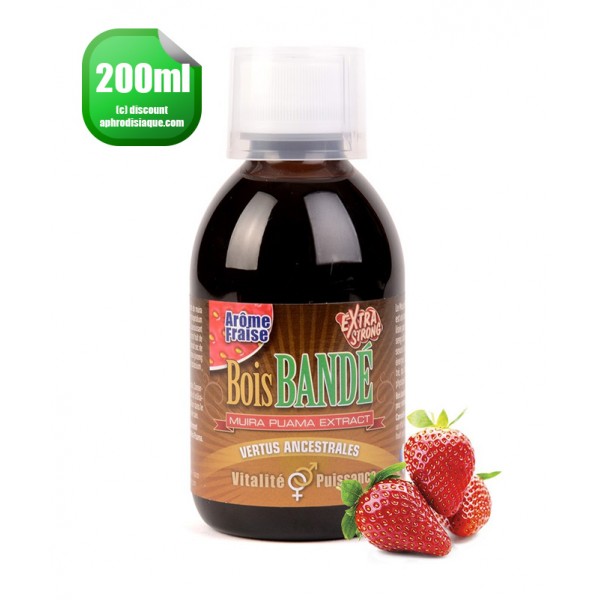 Bois Bandé Strawberry
Bois Bandé flavoured Strawberry and enriched with Radix Ginseng and Tribulus Terrestris. The most powerful Bois Bandé on the market.

Garanties sécurité - 256 bits SSL

Produits en stocks - Expéditions sous 24 heures

Nous remboursons si vous changez d'avis
Bois Bandé flavoured Strawberry :
Let's start with the bandaged wood. Known by its learned name Muira Puama, Bois Bandé is a small tree whose bark has been used for centuries by Amazonian Indians to treat, in addition, sexual disorders. Over the centuries, Bois Bandé has become an essential natural aphrodisiac. To date, it is the most widely sold sexual stimulant in the world. Bois Bandé is also an excellent natural remedy for influenza and rheumatism. The main concern of Bois Bandé is its bitter taste. Lapinox looked for a solution and found THE ultimate Bois Bandé. With this Bois Bandé flavoured Strawberry, drinking it is no longer a torture.
.
The advantages of Bois Bandé Extra Strong :
In addition to being pleasant to eat, Bois Bandé Extra Strong is enriched with Radix Ginseng and Tribulus Terrestris, two natural and powerful aphrodisiacs. In conclusion, this Bound Wood and therefore the most efficient in its category puts the competition far behind. But with a 200 ml bottle, it is also the cheapest banded wood. 2 good reasons to test this Bois Bandé !
Powerful sexual tonic
Increases endurance and physical and mental stamina
Provides vitality and energy
Effective and natural response to regain all your vitality at the right time
.
Using Bois Bandé :
Take 10 ml pure for an immediate booster effect. 
Due to the weight of this product, the tracking mode is not available.
.
Warning Bois Bandé
Bois Bandé food supplements cannot be used as a substitute for a varied and balanced diet. To be consumed as part of a healthy lifestyle. Do not exceed the recommended daily dose. Do not leave within reach of children. Not for use by pregnant or breastfeeding women, and by people undergoing medical treatment. For your health, eat at least five fruits and vegetables a day, exercise regularly, avoid eating too much fat, too much sugar, too much salt, avoid snacking between meals.
Data sheet
capacity :

200 ml

category :

Mixte
16 other products in the same category: